Before I delete 5TB of source images, I'd like to review what was skipped. It seems the only way to review this list is following the guide here.
I'm finding the information ps cli offers disagrees with what it's offering from the browser.
Here's an example:
from the browser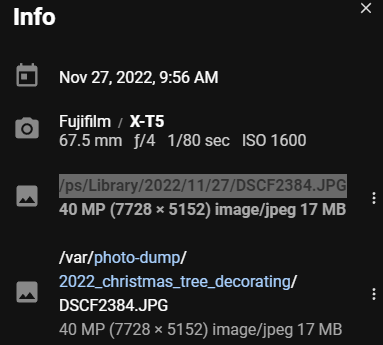 from ps list cli
photostructure list | grep -i DSCF2385.JPG
Returns nothing.
from ps info library/2022/11/27/DSCF2385.JPG
This will dump color formatted json of the file's metadata.
note that I had to lowercase library in order for ps to find what I was asking for–the web page capitalizes it for whatever reason.
Because ps list doesn't return this photo, the implication from the guide is that this photo was missed. It obviously wasn't since I'm looking at it in the browser and its meta is showing accepted.
In fact, every photo out of the source-album 'photo-dump' is omitted. Near as I can tell, this problem eliminates a photostructure-supported way to discover sync failures.
I know version 2.* has a csv buried in the log directory, but I ran into big problems using 2… probably standard alpha bug stuff. Since my collection is over 111,000 photos (with three hours left to sync, too), I nuked & paved and started over at 1.1. I'll have to wait for those tantalizing features.