PhotoStructure is an "indy" project – an independent, solo developer (me!), paid for with subscription revenues from you (thank you, subscribers!).
I've had a couple people ask how PhotoStructure is developed, so I figured I'd write it down.
Hardware
PhotoStructure has a ton of different builds to support cross-platform libraries:
PhotoStructure for Desktops on macOS, Windows 10+, and Linux
PhotoStructure for Docker (arm64 and x64)
PhotoStructure for Node (macOS, Windows, Linux)
This means testing is a bit of a bear, and requires a bunch of hardware. I have:
My primary Linux/Ubuntu workstation (an AMD 3900x – highly recommended!)
A 2018 Intel mac mini
A 2020 M1 mac mini
An old gaming rig from pre-2010 for Windows 10 testing
An old laptop for Windows 10 testing
A PiBox (get a 5% discount via this link!)
A Raspberry Pi 4
An old ARM-based DS416j Synology NAS
A more recent Intel-based DS918+ Synology NAS
An Intel Core i3-based NUC (which hosts my family's PhotoStructure library–a bit under-powered to highlight potential performance bottlenecks)
An Intel Core i3 UnRAID box (for UnRAID testing)
An Intel Core i3 FreeNAS box (that I need to upgrade to TrueNAS at some point soon)
Several more virtual machines running on my workstation to simulate Windows 10 on different hardware classes
Software
Given how many different environments PhotoStructure has to support, I try to rely on automated tests to highlight defects before users see them–so PhotoStructure's "test coverage" is pretty thorough.
1,000+ front-end unit tests
8,000+ library unit tests
500+ library "system" and "integration" tests
This is in addition to all the tests I wrote for the open-source components of PhotoStructure, batch-cluster and exiftool-vendored.
As I develop I have mocha in --watch mode running on another monitor, and it tells me if there are tests that I've either newly broken or are no longer correct.
When users find issues, I try to write a breaking test that reproduces their error, and then fix the implementation to make the test pass.
For every new codepath commit, I try to have at least a couple new tests to verify behavior.
I've set up "self-hosted" GitHub Actions on all the above hardware marked with a

. After every git commit, all that hardware runs all the above tests.
GitHub Actions provides a report for what parts of the Continuous Integration matrix passed or failed, and specifically what and how any given part failed.
Here's a recent, not-so-successful run: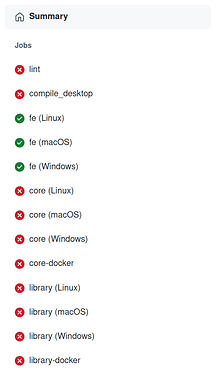 I only release stable builds when the entire CI matrix passes.