I asked a similar question back in October but I think i have a better idea of how Photostructure works now and want/need some additional clarification.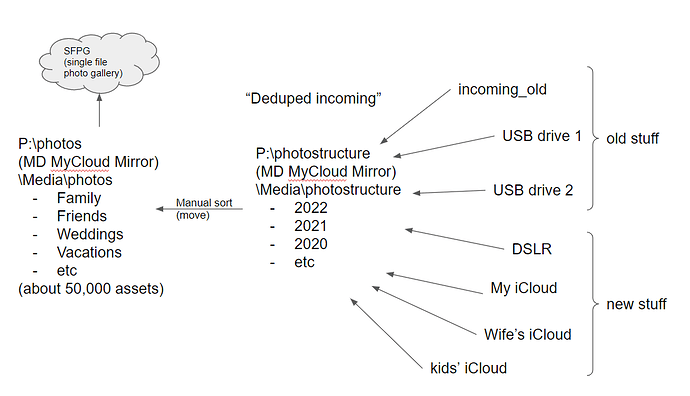 I have about 50,000 assets organized in a hierarchical folder structure…from when I was more diligent with photo organization and when I was the only person taking pictures. Now I have a variety of drives, cloud services and cameras with clutter and multiple duplicates. I would like to use Photostructure to deduplicate all of this clutter and (potentially) manually move the deduplicated stuff into appropriate folders in the legacy structure. (This folder structure is also the basic for an autogenerated web gallery using Single File Photo Gallery)
I have started Photostructure importing my legacy folder structure using the "no thanks. I like my photos and videos where they are". Am I right in understands that if I now add other folders to the scan list ("Where else are your photos and videos") and switch to automatic organization ("Yes, please copy my photo and videos into the Photostructure Library"), only 'new" photos will be copied/organized and my legacy folders will not be copied over to the Photostructure folder/library?