Expected Behavior
After updating from 0.9.1 to 1.0.0-beta 5 PhotoStructure rebuilds the library at a decent speed
Current Behavior
Rebuild is not progressing. Here is a screenshot at 1040 UK time today (9th June):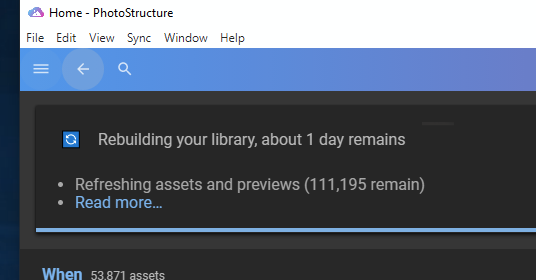 At this point CPU usage by PhotoStructure was 0.5%
Here is a screenshot at 1101 UK time:


CPU usage by PS was 0.1% here.
Overall system CPU usage was below 20% in both cases, so this isn't about PS being crowded out by other processes. I have restarted PS and this still happens.
Steps to Reproduce
Hard for me to test this as it involves an update from 0.9.1 to 1.0.0-beta 5, but all I did was:
Update from 0.9.1 to 1.0.0-beta 4
The rebuild made pretty much no progress
I then on one of my attempts to restart PS was told 1.0.0-beta 5 was available. I installed this and started. No progress. Restarted PS. Still no progress in rebuild.
Environment
Operating system and version: Win 10 20H2
PhotoStructure edition: PhotoStructure for Desktop 1.0.0-beta 5
Update at 13:07 UK time:
Despite a full system restart and relaunch of PS, it's only moved to 111,125 remain. That is it's done 70 photos in more than two hours.