Expected Behavior
I was doing an initial scan.
Current Behavior
Application stopped then I received a notification that Bitdefender saying "Disinfection in progress, Detected threat is being disinfected. Please wait until the process is complete"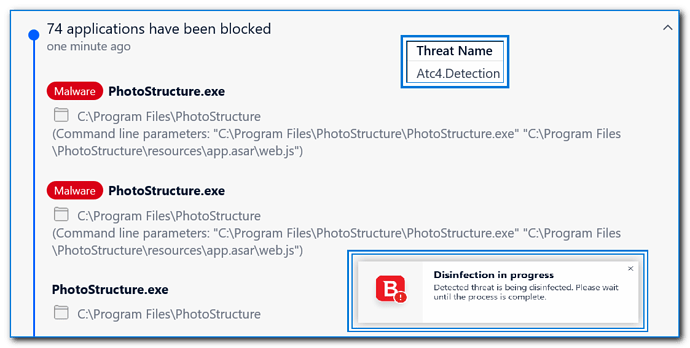 Steps to Reproduce


I am aware that I'm using a beta version and the potential that I may not have these issues with the stable version.
1. After the first incident I researched this as a known issue on your forum I proceeded to restore all files from quarantine and stopped Bitdefender from detecting it in future scans.
2. I restarted PhotoStructure and it hung on the splash screen for several minutes. I closed that window and made several other attempts, which all failed.
3. Since my PC has been running all day, I rebooted it and made another attempt to open the application, however it again failed. I used my uninstaller app to uninstall it completely, deleted all folders and residue.
4. I reinstalled the application and again attempted to do an initial scan. All previous results were identical… Bitdefender killed it again. I will next attempt to block Bitdefender or add it as an exception.
5. I added the application folder as an exception in Bitdefender, uninstalled, rechecked exception, reinstalled, rechecked the exception then attempted to open the application, it failed.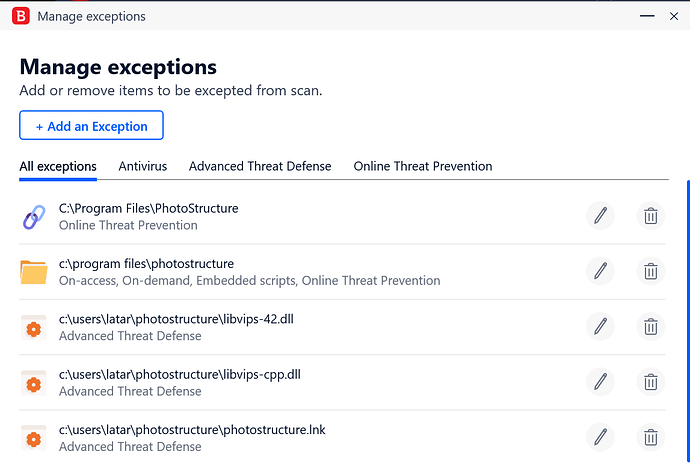 6. I closed the window then tried to open it again, then decided to check task manager and found it running in 3 instanced. I killed them all then tried again to open the application, it failed. Uninstalled the beta version.
7.

Environment
Operating system and version:
Windows 10 Home
PhotoStructure edition:
PhotoStructure for Desktop.
Version=1.0.0-beta.9
LaTarsha