Context
PS is scanning/syncing from one external hard drive to a library that's on another external hard drive. I paused the sync, gave it a minute to handle things, and then quit. Then I tried to eject the drives. The scanned-from drive ejected fine, but the library drive did not.
Expected Behavior
Disk ejects, as PS is no longer using it.
Current Behavior
I click eject, but Finder won't let me eject it.
The error message is "The disk [disk name] wasn't ejected because one or more programs may be using it."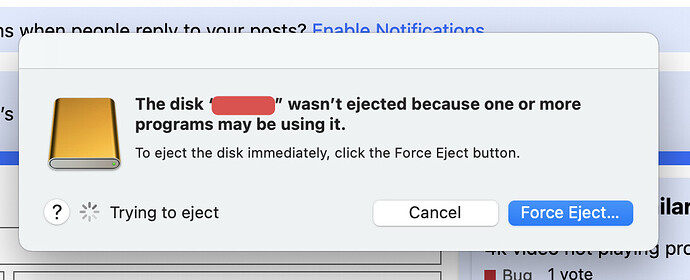 Sometimes this happens bc of Quicklook or Spotlight, but the problem here isn't either of those. PS is not properly removing child processes working on the external disk. See image:

Next, I re-opened PS, paused the sync, and did a "shut down" rather than just quitting. Now it looks like there are different un-cleaned-up processes that are PS rather than perl(?)

Note also that I had two mounted disks: one which was being scanned-from
Steps to Reproduce
See above
Environment
Operating system and version: macOS Big Sur 11.4 (intel, NOT m1 mac) ; library ext disk is a WD easystore & is APFS-formatted
PhotoStructure edition: PhotoStructure for Desktop