Alpha? What's that?
Please note: alpha builds should be considered extremely experimental, and may not even launch on all platforms.
More details about alpha builds are here: Alpha, beta, stable, and latest; What should you use?
Questions? Comments?
Feel free to reply here or on our "alphabeta" room in Discord : PhotoStructure
What's in v2.1?
Version 2.1 brings almost 100 improvements and bugfixes: lines of code and files changed isn't a great metric, but it's directionally correct: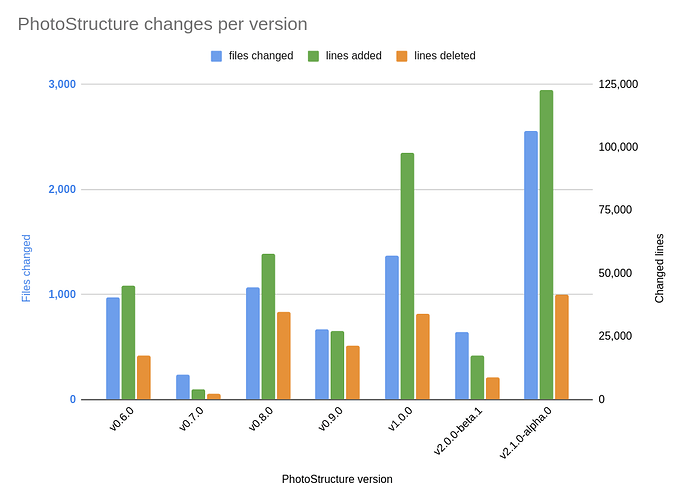 sync improvements
Sync reports to make it easy to see exactly what files and directories were imported, which were skipped, and why

New work scheduler, with both a new "single-threaded" mode and support for 20+ CPU servers, with improved docker and k8s support, and soft-timeout concurrency backoffs

New "quick (and dirty) mode" for Raspberry Pis
Improvements and bugfixes:
Release notes
The comprehensive release notes are here:
Installation instructions
Please take a backup of your system before continuing!
PhotoStructure for Desktop users
Shut down PhotoStructure
Download and install: https://photostructure.com/getting-started/install/?alpha
Running the alpha installer will replace the currently installed version. PhotoStructure for Desktops will detect that it's an alpha build, and automatically upgrade you to newer alpha or beta builds, and then "stick" to stable builds (once v2.1-stable is released).
PhotoStructure for Docker users
Shut down PhotoStructure
Run docker pull photostructure/server:alpha in a terminal
Change your docker run command to use photostructure/server:alpha
PhotoStructure for Docker Compose users
docker-compose down
Edit your docker-compose.yml to use image: photostructure/server:alpha
docker-compose pull ; docker-compose up -detach
PhotoStructure for Node users
Make sure you've got Node.js 16.15.0 or later installed. If you're using nvm, run nvm install 16 ; nvm alias default node to get the latest.

Shut down PhotoStructure

cd into your photostructure-for-servers directory, and run git checkout alpha ; ./start.sh
I'm seeing "Cannot find module 'stream/promises'"
Please upgrade to Node 16 or later. Instructions are above.
OMG I upgraded and my screen is blank!
If you're accessing your library via http, know that newer versions of Chrome and Firefox will include a new Upgrade-Insecure-Requests header. If you open your browser's developer console, you'll see something like this:

Version 2.1 has a bunch of settings to tweak your CSP and CORS headers.
First try setting upgradeInsecureRequests=false. This should fix it.

Then try setting cspReportOnly=true. This disables all CSP protections (although they don't really matter if you're just using http)

If all else fails, enableWebSecurity=false is the "nuclear" option, and disables all security headers.